Welcome to the Trackside3D guide to third party 3D printing services. This page is intended to be a quick start guide for someone who is interesting in adding Trackside3D models to their layout but doesn't want to invest in their own 3D printer.
If you have used  or own a third party 3D printing service you would like us to include here, please reach out to us via email to locoshed@oorail.com.
---
MeltWerk
MeltWerk is a European based 3D printing company that accept payments via PayPal and ship via UPS. MeltWerk currently ship to Austria, Belgium, Bulgaria, Croatia, Cyprus, Czech Republic, Denmark, Estonia, Finland, France, Germany, Greece, Hungary, Ireland, Italy, Latvia, Lithuania, Luxembourg, Malta, Netherlands, Poland, Portugal, Romania, Slovakia, Slovenia, Spain, Sweden, Switzerland, United Kingdom.
As part of our QC process, we test upload models to MeltWerk, so you are guaranteed that the majority of our models can be printed by MeltWerk. MeltWerk has a limit of 360mm, so the Width + Depth + Height cannot exceed 360mm. The majority of our models are within this limit.
Step 1: Purchase the 3D Model from Trackside3D
The first step is to visit https://trackside3d.co.uk and purchase the 3D model(s) you wish to print with MeltWerk. Once you complete the checkout process you will be able to download the models.
Step 2: Decompress the download file
After you have downloaded the model file(s), simply unzip them and locate the STL files. The STL files will have a .stl extension.
Step 3: Upload the STL file to MeltWerk
Next simply visit https://www.meltwerk.com/ and upload the STL file via their main page. They require the models to be single parts. All of our STL files have one part per file so this is not a problem.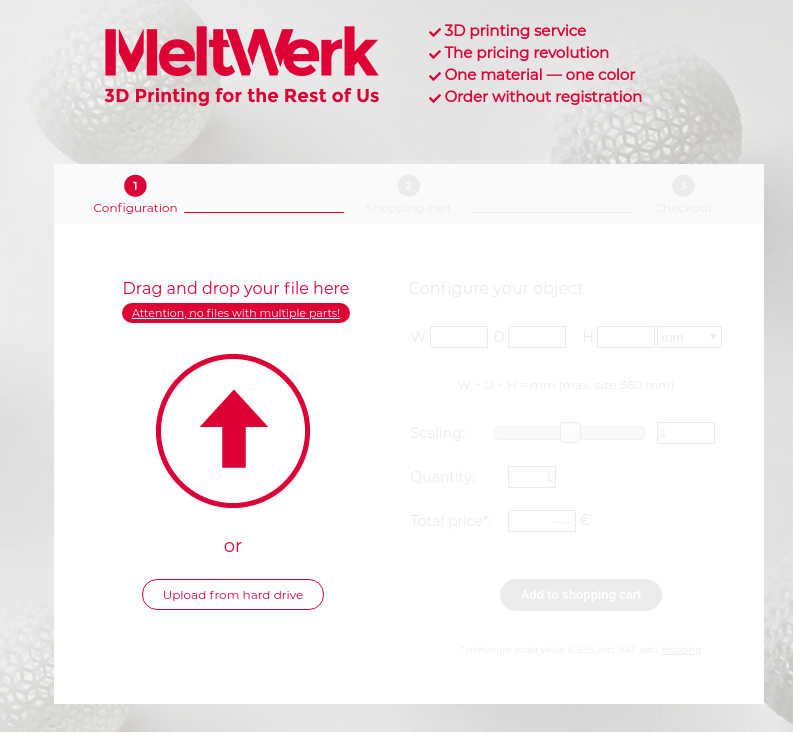 Step 4: Configure the model on MeltWerk
The next step is to configure the model on MeltWerk, unless you are scaling up or down to another scale, you shouldn't need to change the scaling factors. Always inspect the dimensions and the image of the model, to make sure they match your expectations.
Step 5: Add to cart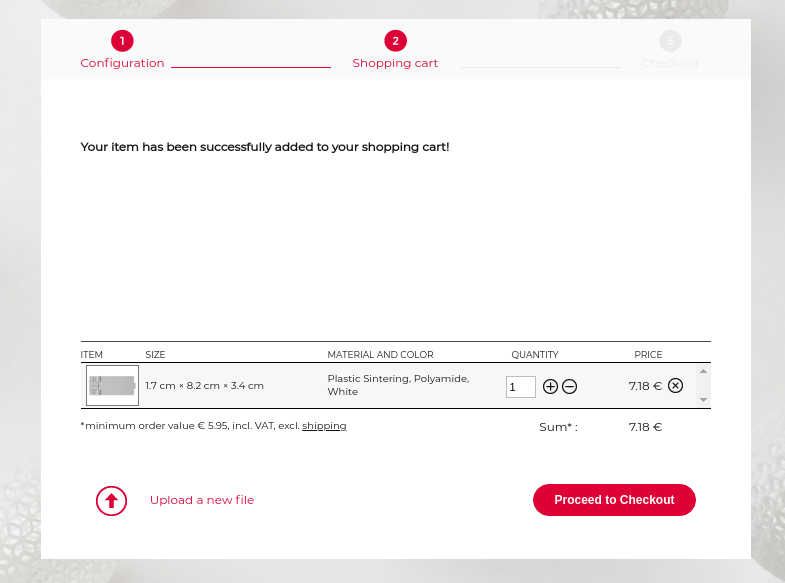 Now you can either proceed to checkout, adjust the quantity or upload another file. You can print as many out as you want to for your own personal use. If you want to gift one to a friend or family member, you will need to buy the model again from Trackside3D as you did in Step 1.
---
Trackside3D Shop on Shapeways
All of the Trackside3D products are now available via our Shapeways Shop. You simply select the product you wish to purchase and choose the material you want it printed in. Add as many products as you are looking for to your cart and checkout. After you checkout, Shapeways will schedule your selection for printing and ship it directly to you.
Step 1: Select the model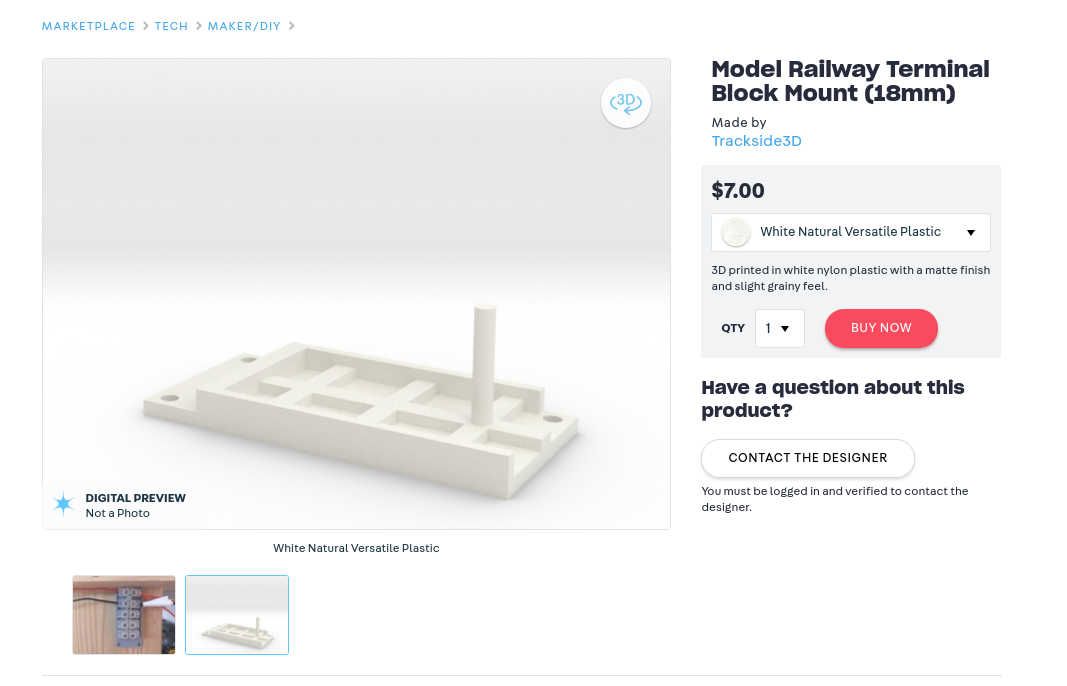 When purchasing on Shapeways always make sure that the "Made By" says Trackside3D. If you see any of our models on Shapeways being offered under another account, please drop us an email to locoshed@oorail.com.
The price show will be for producing the model in the selected material, in this case its White Natural Versatile Plastic. This is a white nylon material and you can read about the material in the description below where the material is listed.
Due to the way Shapeways manufacturers and prices products, you may find that smaller items are only available in bulk. These objects are typically connected together by one or more sprues. Depending on the material they may require cutting with a sharp knife.
Step 2: Choose the material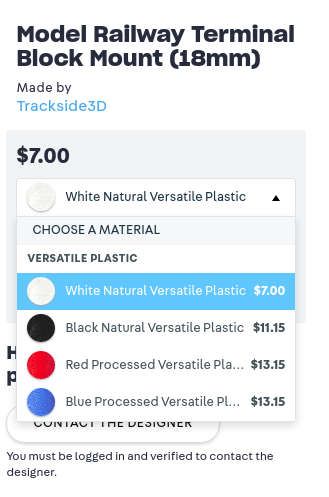 The second step is to choose the material you wish to print with. These materials are ones that we have selected for a specific product. If there is a material you would like to use but isn't listed, please reach out and we will look into adding it for you. We typically only select materials that make sense from a modelling and cost perspective. The cost associated which each different material is listed in the drop down box.
Step 3: Inspect the 3D Model
Click on the 3D icon in the upper right of the 3D model photo on the shapeways product page. You will then be presented with the ability to move the model around in 3D.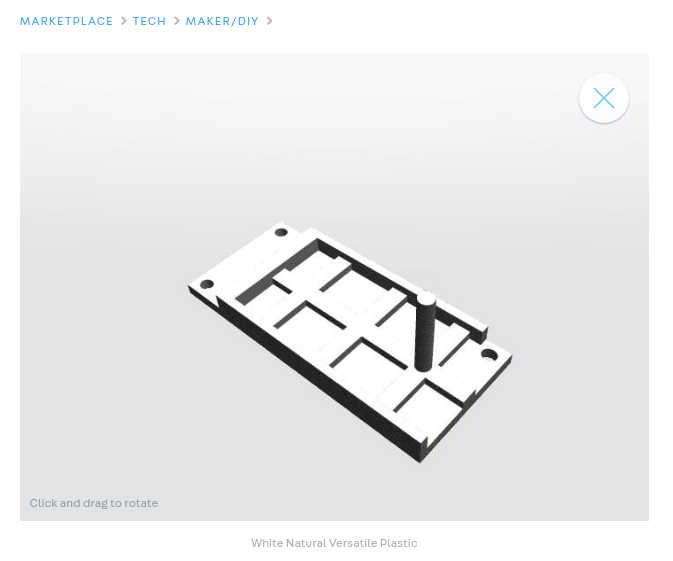 We inspect all of the models and material combinations when we upload the models to shapeways. However it is always a good idea for you to virtually inspect the object, to make sure it is what you are expecting to receive.
Step 4: Order the Model
Once you are happy with the models in your basket. Go ahead and check out. Once you have paid, Shapeways will start the process of printing and shipping your purchases to you. When Shapeways have successfully printed the products, they will package and ship them to you. The length of time it takes for Shapeways to print and ship the products varies based on their current volume and shipping conditions.
Things to consider when using Shapeways
While Trackside3D has a very strict QC process when designing and testing models, the processes used by Shapeways are outside of our control. All inquiries related to purchases from Shapeways should be handled directly with Shapeways Customer Service. If you are unable to get a satisfactory resolution from Shapeways or you run into a problem with one of our models, please reach out to us by the contact designer link on Shapeways for the model you are having a problem with. We will do our best to work with Shapeways to resolve any incompatibility issues between their printing process and our model. Trackside3D will correct any compatibility issues with our models and Shapeways, however we are not responsible for refunds, returns or any costs incurred related to using Shapeways.
Shapeways can be expensive depending on the model compared with traditional products or 3D printing the model yourself. Typically 3D printing costs about £20 per kilogram of plastic, which can make products for your model railway cost pennies or fractions of a penny to print. In contrast the process of using Shapeways instead of printing the model yourself can be expensive as you are also paying for the use of their printers and specialized materials.
Shapeways offers a premium finish. The quality of the print can be higher with Shapeways depending on the material selected. Deciding if paying a premium for the convenience is up to you.
You don't have to buy the 3D model, when you buy directly from our Trackside3D Shapeways Shop, you simply purchase the physical product. You don't have the added cost of having to purchase the 3D model and upload it like you do with other Third Party Services.