Trackside3D is a range of downloadable digital objects in OO scale (1:76.2) that have been specifically designed for 3D printing. Trackside3D projects are created and designed by the team at oorail. Each project is researched and made as accurate as possible. You can purchase and instantly download Trackside3D models from our Trackside3D website. With Trackside3D, you simply download once and can print an unlimited number of times for your own personal use.
This section of the site is designed to provide useful information to get started with Trackside3D products. You may have arrived here from our old support site, we hope that you find this section is more helpful. As always, please feel free to leave us feedback.
---
3D Printing Expectations: Some Modeling Required
It is important to remember that 3D printing essentially brings plastics manufacturing into your home. When you buy a ready to run model, a lot of work has gone into taking that model from the parts that come off the plastic injection molding machine to the product you take out of the box. With 3D printing, its important to remember that you are getting the model at the same place in the manufacturing cycle as the factory workers who start to work on it after the injection molding. Depending on the model, you may have to paint and assemble it before it is ready to use on your layout. There are less steps and less work involved than a traditional plastic kit (less parts) or printable paper kit (less assembly), however with most models, you should expect to do some small amount of modeling.
---
Designed for OO scale but will work in other scales
Obviously this project is by oorail and we've chosen to focus our efforts specifically on OO scale. All of our projects are designed and scaled to OO (1:76.2). However you can easily scale the models up or down to other scales due to the way we have designed them. If you want to print in other scales have a look at this page: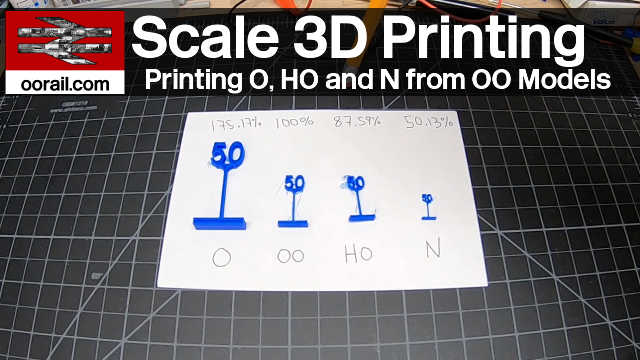 ---
General 3D Printing for Model Railways
If you are researching 3D printing and are looking to see what is involved, then please check out the 3D printing page first. That page is the gateway to all the general 3D printing information on our site, as well as to our non-product specific 3D printing videos. It is a good place to start to learn about 3D printing. If you already have a printer (assembled) or plan to use a third party service, please check out the Getting Started section below.
---
Getting Started
If your 3D printer uses filament (plastic on a reel) then follow our guide below for filament printers. If your 3D printer uses resin (liquid plastic resin in a bottle) then follow our guide below for Resin (SLA) printers. If you don't own a 3D printer but would like to still obtain our models please follow our guide on using third party printing services. If you are already calibrated and are printing models with your printer, please skip to the next section. The following guides offer advice on things like bed leveling, printing calibration objects and installing Slicer software.
Getting Started Guide for Filament Printers (FDM - plastic on a spool)
Getting Started Guide for Resin Printers (SLA - plastic in a bottle)
---
Recommended Slicer Settings
We have streamlined our recommended slicer settings into the settings below. For models that require multiple profiles or specific settings, you will find those listed in the description on our Trackside3D shop for that particular model.
PLA - small/medium sized objects
PETG - small/medium sized objects
PETG - large objects (heated bed)
PLA - large objects
Printing with Supports
Transparent PETG
Wood PLA
---
Filaments and Materials
The material you print with is a key part to successful 3D printing. The articles below are an expanding list of things we've discovered during our 3D printing journey.
Recommended Filaments
Selecting the right material
Filament or Resin
Special Materials: Wood PLA
Special Materials: Transparent PETG
Special Materials: Textured PLA
---
Our Design Process
Every Trackside3D product goes through our eight step design process. Below you can learn how that process works and some of the innovative technologies we use.
Virtually There: How we use VR to research inaccessible locations
Surveying and Measurements with Google Maps and Google Streetview
Past and Present: Using Photographs, Books and Maps to calculate measurements
---
Product Documentation
Below you can find our current list of product categories, to find product specific documentation simply click on the category. Some product categories such as Cable Trunking have general documentation for the whole category, while other categories have per product documentation. This was done to avoid overly complex documentation, especially when the information was duplicated from product to product.
Our documentation includes information about the model, placement guidelines (with real photographs), information about the prototype, printing guidelines, suggested post-print processing (such as painting etc) and links to any videos related to the product.
Please note: Currently our product documentation is a work in progress, we are enhancing the documentation daily, so please check back. If there is a product you need specific documentation for that isn't available, please contact locoshed@oorail.com.
Product Categories
Track Accessories (001)
Lineside Accessories (002)
Point Machines (003)
OHLE - Overhead Line Equipment (004)
Signals (005)
Building Detailing Kits (006)
Cable Trunking (007)
Railwayside Terrace (008)
Baseboard Accessories (009)
Freight Rolling Stock (010)
Passenger Rolling Stock (011)
Locomotives (012)
Motor Parts (013)
Diesel Locomotive Parts (014)
Electric Locomotive Parts (015)
Steam Locomotive Parts (016)
DMU/DEMU/EMU Parts (017)
Passenger Stock Parts (018)
Freight Stock Parts (019)
Non-Railway Buildings (020)
Railway Buildings (021)
Station Platforms (022)
Railway Stations (023)
Bridges and Viaducts (024)
Level Crossings (025)
At the Depot (026)
Petrol Stations (027)
Tools and Accessories (028)
Third Rail (029)
Containers (030)
Industrial Detailing Parts (031)
Road Accessories (032)
Royal Mail (033)
British Rail Office Detailing Kits (034)
Building Interior Kits (035)
Military (036)
---
Frequently Asked Questions
Trackside3D Products FAQ
Trackside3D 3D Printer FAQ
Trackside3D Filament FAQ
---
Trackside3D License Agreements
Our digital products are unique in that they consist of the digital product offering and also the resulting physical object. All of our digital products and the resulting physical object are subject to the following license agreement:

---
Free Downloads
Trackside3D occasionally releases 3D models for free, we typically make these available on our thingiverse page but due to on-going technical issues that Thingiverse seems to be suffering from, we're making those releases available on our site as well. All of our free Trackside3D models are licensed under the Creative Commons Attribution-NonCommercial-NoDerivatives 4.0 International License (CC BY-NC-ND 4.0).
Sometimes our free downloads are fun projects that we did to try out new 3D printing techniques. Sometimes they are design derivatives created during product development. There is nothing wrong with the derivative models, it just means we found a better way to do it. Sometimes we develop product prototypes that work but don't quite meet our product quality standards. Sometimes we are just feeling really generous about a model and offer it for free.
Double Arrow (000-000)
Narrow Ballast Spreader Tool (000-001)
Narrow Close Ballast Spreader Tool (000-002)
Cube Ballast Spreader Tool (000-003)
Layout Plate - oorail (000-004)
Carriage Washing Apparatus (000-005)
Plywood Sheet (000-006)
Naval Artillery Shell (000-007)
Terminal Block Mount (000-008)
---
Additional Support (Customers)
Welcome to the Model Railway 3D Printing Revolution! Thank you for taking the time to check out our products and becoming a customer. Our goal is to lower the cost and enhance the enjoyment of model railways. We are striving to set a higher standard and disrupt the Model Railway Industry. The Trackside3D products are designed by Railway Modellers for Railway Modellers, we hope you enjoy adding our products to your layout.
All of our 3D models have been personally examined, tested and certified before release by John Buswell.
You can keep up to date with the latest Trackside3D news via our Trackside3D Facebook Page and via the 3D printing tag and Trackside3D tag on this website.
You can also contact us directly by emailing locoshed@oorail.com.
We are always more than happy to answer questions or provide assistance, please feel free to contact us
---
Trackside3D Facebook Community Group
We invite you to take part in our Trackside3D Community Facebook Group where you can ask general questions and even share what you have printed if you would like.